Rory Gardiner's new children's album AND new single are all done.
We had a blast recording vocals and mixing Rory's new children's album, and also worked on a new single that will be out soon! Check him out at http://www.rorygardiner.com/
POSTED BY: sfoley - September 23, 2014
Studio B renovations almost complete, New website being posted soon!
We are just about ready to unveil all the work that has gone into expanding studio B.  It looks great, and we can't wait to show you.  We are also changing the website, so for now this is the only news that is in the feed, but it's only temporary.  For now here's a little peek of the before/after of the booth in studio B… Stay tuned!!!  (Please note… the stain on the carpet has nothing to do with me…. this is from before Audio Valley took over, and we are not responsible for whatever large farm animal was being kept in there).
POSTED BY: sfoley - April 17, 2014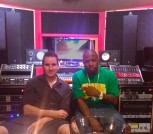 Big Boi from legendary hip hop group Outkast in studio for a few days to record and write
It was a huge honour to have such a hip hop superpower in the studio for 3 straight days.  No sleep was had, but we had a blast writing and recording a bunch of tracks for the new album, due for release on Nov 13th.  Producer Chris Carmouche, C-Bone and DJ Cutmaster Swiff were all great to work with and we can't wait to hear the results! Check out sneak peaks and listen to tracks from Sir Lucious Leftfoot and lots of other music at http://bigboi.com
POSTED BY: sfoley - July 18, 2012